Nieuws
Guest Researcher: Hu Hanhan
In 2023-2024 we will be joined by Hu Hanhan 胡涵菡 as a guest researcher. Her main affiliation is he National Institute for Advanced Humanistic Studies, Fudan University, Shanghai. Her project is entitled A Study on Canton Famille Rose Porcelain from a Global Perspective (1720-1840).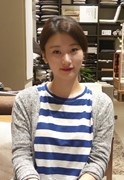 Canton famille rose porcelain is a kind of glazed porcelain, which was colored in Canton and has been exported to Europe and America since the early 18th century. It has many characteristics that are different from common porcelain. For example, in terms of raw materials, the pigment used depended on imports from the West in the early years. In terms of production, in order to meet the requirements of western merchants, Chinese artisans groped for new forms of organization that separated the decoration from the production of porcelain bodies, which was relatively rare in other kinds of Chinese porcelain at that time. In terms of decoration theme and aesthetic characteristics, Canton famille rose porcelain is made to satisfy the western taste, so its theme is a hybrid of Chinese and Western styles and it is colorful and exuberant, different from the East Asian traditional aesthetic idea. As a commodity, household containers and decorative crafts, Canton famille rose porcelain is also linked to the more complex and multidimensional aspects of the commercial, cultural and aesthetic interactions around it. Its features present the influence and interaction between different cultures, which is a perfect lens to explore the cultural exchange and interaction between China and foreign countries in early modern times.
This research project will connect the history of porcelain with the history of technology and cultural exchanges between East and West. It includes three main parts: the order and production, ornamentation and style, circulation and acceptance of Canton famille rose in the world.